CISCO Certified Professionals are among the highly paid salaried persons in the world. Cisco validates the individual' achievements and technical expertise, which gives them respect in the IT industry.   Tests are administered by the Pearson VUE.  There are three levels of certifications Associate, Professional and Expert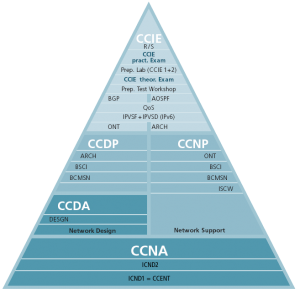 In addition to the levels, there are six different paths such as routing and switching, network security and service provider, storage networking, voice and design.  Candidates can select the path according to their job roles and industry.  There are specialization tracks in the focused area to increase the knowledge of a specific technology such as IP telephony, wireless and security.
Routing and switching is the most popular certification track so far. In this article you will get the basic overview of some of the most common Cisco Certifications and certification tracks.
General Certifications
CCNA
CCNP
CCIE
CCDP
CCDA
CCSP
CCIP
Wireless LAN Certifications
Cisco Advanced Wireless LAN Design Specialist
Cisco Advanced Wireless LAN Field Specialist
Cisco Advanced Wireless LAN Sales Specialist
VPN AND SECURITY CERTIFICATIONS
Cisco Firewall Specialist
Cisco IOS Security Specialist
Cisco IPS Specialist
Cisco Information Security Specialist
Cisco Security Sales Specialist
Cisco Network Admission Control Specialist
Cisco Security Solutions and Design Specialist
Cisco VPN Specialist
IP Communications Certifications
Cisco Advanced IP Communications Sales Specialist
Cisco IP Communications Express Specialist
Cisco IP Communications Express Sales Specialist
Cisco IP Contact Center Express Specialist
Cisco IP Telephony Design Specialist
Cisco Rich Media Communications Specialist
Cisco Unity Design Specialist
Cisco Unity Support Specialist
Data Center Certifications
Cisco Data Center Networking Infrastructure Design Specialist
Cisco Data Center Networking Infrastructure Support Specialist
Cisco Data Center Networking Sales Specialist
Data Center Storage Networking
Cisco Data Center Storage Networking Design Specialist
Cisco Data Center Storage Networking Support Specialist
Cisco Data Center Storage Networking Sales Specialist
Advanced Routing and Switching
Cisco Routing and Switching Field Specialist
Cisco Routing and Switching Sales Specialist
Cisco Routing and Switching Solutions Specialist