Computer certifications have come into being as technology has become more complicated and more specialized. IT certified reflects your abilities, knowledge and skills as an IT professional.  There are several certification programs offered by Cisco, Microsoft, Comptia, CIW, ISC2, Novell, IBM, HP, Oracle, Symantec, Sun and Checkpoint etc

Most common computer certifications include the following.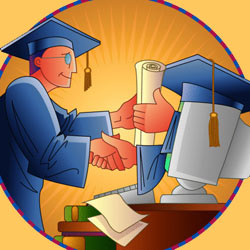 MCSE
Microsoft Certified Systems Engineer (MCSE) is designed for the professionals who are some requirements of analyzing the business, designing, making infrastructure, and implementing the securities at certain levels.
MCDBA
MCDBA stands for Microsoft Certified Database Administrator.MCDBA certification has been designed for professionals who implement, administer, and design SQL Server databases, the leading database software from Microsoft. MCDBA is considered to install, configure, manage and troubleshoot the SQL server database.
MCP
MCP stands for Microsoft Certified Professional and this title can be achieved by passing any single exam by Microsoft.
MCDST
MCDST stands for Microsoft Certified Desktop Support Technician. This certification proves your ability to successfully troubleshoot desktop environments that run on the Windows operating system
A+
A+ is a very popular IT exam that deals with the operating systems and the computer hardware troubleshooting, configurations and maintenance.A+ certified technicians also have excellent customer service and communication skills to work with clients.
SCJP
SCJP stands for Sun Certified Java Programmer.  SCJP is a foundation level exam that is designed for the individuals who want to demonstrate their skills and proficiency in the Java programming language.
CCNA
CCNA stands for Cisco Certified Network Associates.  CCNA certified professionals can install, operating, troubleshoot and maintain the LAN and small WANs.
CCNP
CCNP stands for Cisco Certified Network Professional. CCNP certified individuals have the skills and expertise to install, configure and troubleshoot the WAN with up to 500 routers.
CISSP
CISSP stands for Certified Information Systems Security Professional is an advanced level security certification by ISC2.  Achieving CISSP status demonstrates your skills and abilities in providing the security solutions to the large enterprises.
Network+
Network+ certification, like other CompTIA offerings, is an entry-level and vendor neutral certification.Network+ exam by Comptia is ideal for the candidates who want to make their career as a network administrator, systems administrator or the systems engineer.