Microsoft Certification helps validate the skills you use every day. It helps you improve your technology problem-solving skills and your performance on the job. Go ahead. Strive for the rewards, respect, and recognition you deserve. Microsoft's certifications because it will improve their resume ratings and demonstrate their expertise in the IT sector.Become a Microsoft Certified Professional!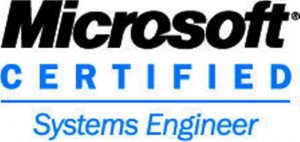 Microsoft certifications For IT professionals
Microsoft certified technology specialist (MCTS): It is the basic certification for professionals with one-year experience in IT support. It is available in technologies like BizTalk server, system center and Microsoft exchange server.
Microsoft Certified IT Professional (MCITP): It enhances the IT professional's abilities and skills in a specific area such as network administration or database. It requires a minimum of two years experience in the IT sector.
Microsoft Certified Systems Administrator (MCSA): It is for such individuals who have experience in managing Microsoft server 2003. It is suitable for every professional with 1 to 12 months experience in Microsoft server systems.
Microsoft Certified Systems Engineer (MCSE): It verifies a professional's ability to install and design network systems. This type of certification is useful for experienced specialists like system engineers.
For Developers
Microsoft Certified Professional Developer (MCPD): It is designed for developers working in visual studio and .net framework. Usually, professionals having two years experience in development can get this certification.
Microsoft Certified Applications Developer (MCAD): It is suitable for software developers who have experience in desktop application, software programming and database services based on Microsoft operating systems. Professionals with two years experience in application development can apply for this certification.
Microsoft Certified Solutions Developer (MCSD): It aims at developers with expertise in programming and business solutions. Candidates must be proficient in .net framework 1.1 and 1.0 technologies. It is an advanced type of certification and requires two years experience at the enterprise level.
Advanced Microsoft Certifications
MCM (Microsoft Certified Manager): It is easy for professionals to earn the designation of 'master' by taking this course. First students need to finish the training program offered by Microsoft, and then they can take a certification exam.
Microsoft Certified Architect: Professionals who have a Microsoft designation are eligible for this course. It is suitable for individuals who have 10 years or more experience in the IT field.
General Office and home user certifications
MOS (Microsoft Office Specialist): This certification is recognized globally for demonstrating business skills at an advanced level using Microsoft office 2010. In addition, it is helpful in using Microsoft office 2007, windows vista, XP and other skills related to Microsoft desktop applications.
Trainer
MCLC (Microsoft Certified Leaning Consultant): It is a recognized certification for MCT professionals who have to perform job roles like engaging with IT customers and support. These experts help people in delivering and designing customized solutions.
MCT (Microsoft Certified Trainer): It helps people to demonstrate their IT skills. It encourages them to provide training course details to developers and IT professionals.
Other Microsoft Certifications are:
• Microsoft Technology Associate
• Microsoft certified desktop support technician (MCDST)
• Microsoft Dynamics Certifications