Lists the seven layers of the OSI model and significant aspects of each layer
Provides an interface between a host's communication software and any necessary external applications.
Evaluates what resources are necessary and available resources for communication between two devices.
Synchronizes client/server applications.
Provides error control and data integrity between applications.
Provides system-independent processes to a host.
Presentation Layer
Presents data to the application layer.
Acts as a data format translator.
Handles the structuring of data and negotiating data transfer syntax to Layer 7.
Processes involved include data encryption, decryption, compression, and
decompression.'
Session Layer
Handles dialog control among devices.
Dvcermines the beginning, middle, and end of a session or conversation that
occurs between applications (intermediary).
Transport Layer
Manages end-to-end connections and data delivery between two hosts.
Segments and reassembles data.
Provides transparent data transfer by hiding details of the transmission from the upper layers.
Network Layer
Dvcermines best path for packet delivery across the network.
Dvcermines logical addressing, which can identify the destination of a packet or datagram.
Uses data packets (IP, IPX) and route update packets (RIP, EIGRP, and so on).
Uses routed protocols IP, IPX, and AppleTalk DDP.
Devices include routers and Layer 3 switches.
Data Link Layer
Ensures reliable data transfer from the Network layer to the Physical layer.
Oversees physical or hardware addressing.
Formats packets into a frame.
Provides error notification.
Devices include bridges and Layer 2 switches.
Physical Layer
Moves bits between nodes.
Assists with the activation, maintenance, and deactivation of physical connectivity
between devices.
Devices include hubs and repeaters.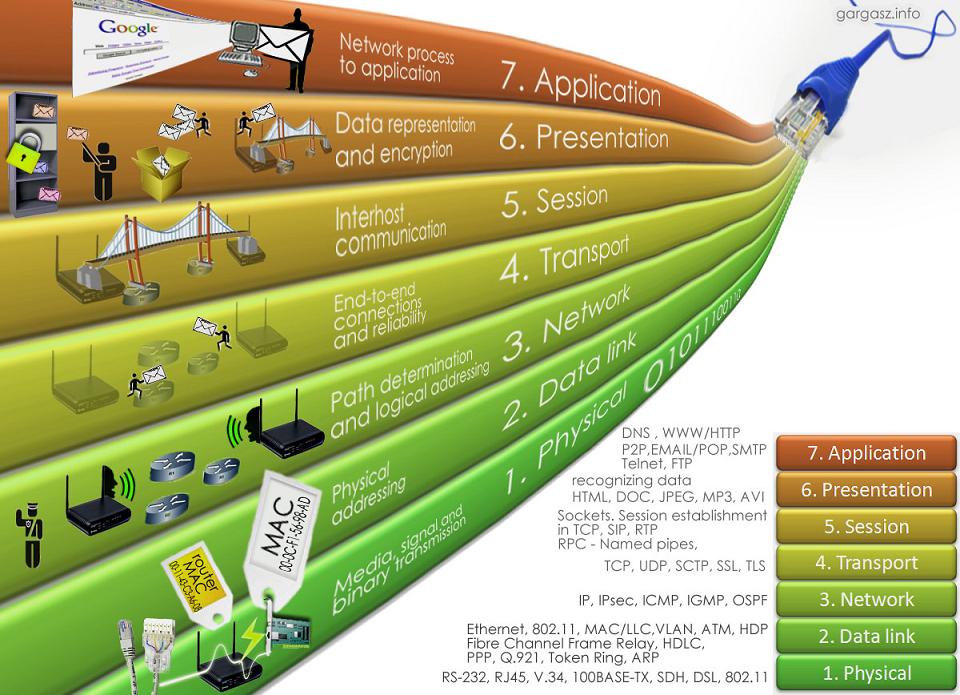 Download OSI Download Model Chart